EVO® Speed Lacer Ankle Stabilizer (Med Spec)
The EVO speed Lacer has the same internal stirrup strap, external stabilizing straps and dynamic cuff as the EVO ankle stabilizer with the addition of a speed lace closure mechanism that offers a faster application. The EVO Speed Lacer is bilateral and fits either the left or right foot. Indications include: inversion or eversion ankle sprains, syndesmotic ankle sprain (high ankle sprain), subtalar joint instability and medial or lateral ankle instability. (Color: BLACK only) (Fits: Left or Right).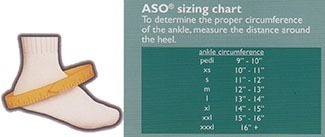 Only logged in customers who have purchased this product may leave a review.