ASO® EVO® Ankle Stabilizer (Med Spec)
The EVO ankle stabilizer is an evolutionary step forward in ankle protection with its internal stirrup strap, external stabilizing straps and dynamic cuff. This patent pending design enables the EVO to comfortably provide superior support to the original ASO and better protection against high ankle sprains. The dynamic cuff and lining materials have been upgraded to better conform to the ankle above the malleolli and resist distal migration. The EVO is bilateral and fits either the left or right foot. Indications include: inversion or eversion ankle sprains, syndesmotic ankle sprain (high ankle sprain), subtalar joint instability, and media or lateral ankle instability. PDAC verified (Colors: WHITE, BLACK) (Fits: Left or Right).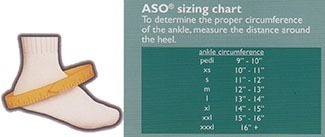 Only logged in customers who have purchased this product may leave a review.